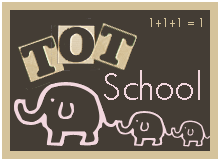 Turbo is 26 months and Sweet Pea is 7 weeks

What a terrific week! We had several days of unexpected company this week which was tons of fun. Still we got in a lot of Tot School!! I'm not sure if Turbo is still a Toddler or a Preschooler. I suppose he's in that middle area of being 2! Either way, these are fun activities to do with Little Kids!
Art
- We did a bean mosaic for Open Ended Art - See what we did and the difference between Crash's and Turbo's
HERE
.
Alphabet Puzzle - Several new concepts for Turbo - from how the pieces fit together to matching pictures with letters. We only worked with our recent letters of the week. This will be a weekly staple to our Letter of the Week work.

Sorting - This was Turbo's first time playing with these. As such, I should know he wants to do his own thing vs anything I planned. What was intended to be sorting activity turned into free play with the sticks. Inspired by an idea from my friend Stephanie, I decided to start making letters with the sticks. I'd make the letter and show it to Turbo. He thought it was very cool. After a bit, he holds up two sticks in the shape of a V and beaming says "Mommy, V! V says va, va, va" I was so proud that he was able to form the letter!! (ok, I still am!!).

Sorting Beans
- We did a bean mosaic for Open Ended Art - See it
HERE
. Turbo is crazy about beans right now. He wants to touch them, sort them, peel them, bite them, shake them, etc. So we got out the beans many times this week!
Life Skills
- Washing Babies at Mommy & Me. It was fun watching him do all the steps. His favorite part was holding the soap bar.
His favorite area at Mommy & Me preschool is the kitchen. He serves up a lot of pretend food to his friends.
Story Corner: As usual, we're reading many books this week. However, my focus book is Brown Bear, Brown Bear What do you see?. With all our company and activities, we didn't get to doing all the Brown Bear story stretchers I had. So we'll continue this book into next week to do the activities more. Other favorites we've been reading are "Caps for Sale", "My n Book" - Turbo just loves that one for some reason. So N will be our letter next week.

Fun Play
- Here's some pics of Turbo and Crash out having fun. Its so cute how they incorporate Life Skills into their play. Turbo is carrying around the pail because he's "working on a project" and Crash is cleaning toys with the scrubby. They both are all about repeating those things they see the adults doing. Sooo cute!!