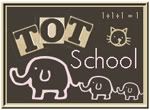 Turbo is 27 months; Sweet Pea is 8 weeks
Hubby travels about 1 week of the month from Sunday night through late Friday night. My super Hubby set expectations with his clients to not travel the past two months while we acclimated to a family of 4. (yep, super sweetie!) He's such a terrific and hands-on Dad! Turbo and I have really grown used to seeing him much more during the week.
This week it was time for Hubby to travel again and we're all missing each other. Turbo is very sensitive this week. Sometimes, I can see his emotions rise to the surface and in that instant he'll act out or come to me for extra love. I've been staying very close and giving lots of approval and affection. It seems to help a lot. He's waking a couple times a night and needs reassurance that I'm still here. With a 2 month old too, my nights are long, but our days are active and full, so the time is going by fast.
I tell you this as preface to why I didn't get much planning together for TotSchool this week. My goal is that next weekend I'll be able to plan a month in advance and get it all together for easy coordination each week. How are you planning for your TotSchool? Leave me a comment or send me an email your planning routine.
Now, on to Tot School for this week.
Cutting Practice:
Having a difficult time teaching him the correct method for using scissors. But oh, how he loves to cut! So we're practicing like this for now. Even though he's careful, "Watch Mommy's fingers" is often heard during this activity.
Sorting: Turbo does not want to sort unless it's totally his idea. He won't sort these sticks for anything, but he had his music erasers sorted while playing with them yesterday. Whew, I was beginning to think he didn't know how to do it. (just kidding, but seriously he doesn't want to sort!)

Alphabet/Number Twister - Impromptu game I thought of while eating breakfast. Turbo got the hang of it fairly quickly. Helps that he knows his left and right. The added bonus was that I had to remove almost all the toys from the area. Haven't put them back either. He's playing with toys he hasn't played with in ages and it's a lot easier to keep everything picked up.

It was so dang hot this past weekend we took a trip to the water to watch the sailboats and have some lunch. Turbo decided to teach himself about sour when he grabbed my lemon and ate it.

Puzzles: HOORAY! He really understood this type of puzzle this week. As you can see he was oh-so-very-proud of himself!

Story Corner: We continued to read Brown Bear Brown Bear What Do You See along with the felt board pieces. Turbo has such fun with those! I put together an activity pack from the templates at 1+1+1=1 (LOVE that site! if you haven't been there be sure to check it out). Turbo really enjoyed these. He's able to do enjoy the pack right now and I can see there's room to grow. We'll enjoy having this into our rotation.

We're read many books each week. Although many are the same for a few weeks as he likes to hear the same stories.

Here's some of what we're reading:

My b(n, t, h, j) Book. Turbo continues to enjoy these and we read them several times a day.
The Tooth Book by Dr. Seuss (also every day upon his request).
Fall Leaves Fall continues to be requested each week.
1,2,3 to the Zoo - new this week. Turbo's not really interested.

Construction Countdown - new this week - likes equipment and counting, but isn't all that into the book. Maybe next week
Little Bear books - had for a few weeks and he's not at all into them. Surprised me as he loves his teddy bears.
Danny and the Dinosaur Treasury - had for a few weeks. The first week we read one of the stories every day (sometimes 2x). Lately it's only requested 1x week.
Caps for Sale - had for a few weeks and he still enjoys it. He walks around saying "Caps, Caps for sale, 50 cap."
The Fierce Yellow Pumpkin - had for a few weeks - not really interested.
Moses goes to the Circus - had for a few weeks - not really interested.
The Very Hungry Caterpillar - enjoys it - read 1x week
Dora books - we have two. He's never seen the cartoon, but loves these books.
Corduroy Writes a Letter - LOVES THESE BOOKS. We've read several Corduroy books and they have been a big hit right away. We've had this one for 2 months and still read it several times a week. Soon it goes back to the library, so we'll have to get another one.

Want to see our other TotSchool posts?
Click Here
Want to see what others are doing in TotSchool? head over
HERE